Casting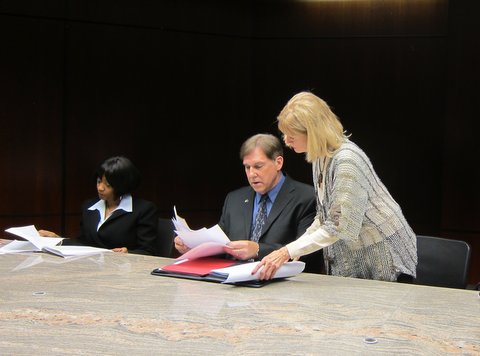 How to Cast A-List Actors in Independent Films

It's the classic "Chicken and Egg" Stuff.
Investors want to see A-List Talent in your movie before they put money into your project and A-List Actors want the money in the bank before they look at your script.
I'm going through this right now with The Impact Factor Movie so if you know of an A-List Actor that wants a great "meaty" role with a short time commitment, let me know!
There are some GREAT parts in this movie and one of the advantages we have is that The Impact Factor Movie is an ensemble cast, so an A-List actor can come in for a couple of days, do some great work, get paid and get out quickly so they can take one of those multi-million dollar roles that pay the bills.
When Dan Mirvish's film Between Us came out in theaters and 22 festivals in seven countries one of the questions he got was " how the hell I got a cast like Julia Stiles, Taye Diggs, Melissa George and David Harbour in a movie that according to Kickstarter only cost $10,000."
In a very popular blog post Dan listed 13 key factors in his success:
1. Choose Castable Material.
2. Assemble a Team. Dan says you don't need an A-list casting director. What you need is someone who can sound like a credible casting director on the phone and a credible group of producers.
3. Aim High. So with that team on paper, they decided to set the budget at $2 or 3 million, doing "finance contingent" casting.
4. Go to New York and target junior agents at the big agencies. New York agencies spend more time trying to get prestige Broadway jobs for their high profile actor clients. They know which actors want meaty, "actor-y" roles and have more time on their hands to actually sit down and read a script.
5. Be Bi-Coastally Curious. From New York, come back to L.A.. Then play them off against each other.
6. Don't Have a List! Be open to names you haven't considered.
7. Develop Relationships with Agents Yourself.
8. Play the Agency Game. As friendly as you get with one agent, make sure you're also friends with Use the nuggets of success with one agency to get the other agencies to move.
9. Bait and Switch. With Between Us, the market crashed they had to do it on a microbudget. An agent will take you more seriously if you have 100% of a $40,000 budget in the bank than if you have zero percent of a $3 million budget in the bank.
10. Set a Start Date. If they're available, they will want to work.
11. Make it Real. As soon as you start asking questions like "does your client have any peanut allergies we should be aware of?" the agents will believe that you really are making the movie.
12. Magnetic Balls of Iron. Dan says, "You need some serious cojones to pull all this off properly. It helps to know that you have backup actors in a pinch."
13. Take Advantage of Others' Misfortune. As you get closer to that start date, your ability to cast closer to the A-list actually increases. In Dan's case, Julia Stiles had always been considered, but she was booked in a play. That play's financing fell through and they needed to fill Julia's schedule.
And by the way, remember that so-called $10,000 budget? Once Dan did get his actors and started shooting, a financier decided to invest in the film.
"No matter the size of your film, it's always best to represent both yourself and your project as a professional, competent, and worthwhile opportunity that they can't pass up," says Darrien Michele Gipson, national director of SAGIndie. "If you have a great script and a smart plan for execution, people will be interested."
We are definitely counting on that fact for The Impact Factor Movie and in the meantime we are deep in talks with several film investment groups that are really interested in the project.
Don't miss the fun!
If you want to go along for the adventure you might want to subscribe to my Impact Factor Podcast now:
http://kenmcarthur.com/itunes
To catch up here are links to the previously released "Season Two" Podcasts in order:
For a special podcast about what I'm doing with Season Two take a listen to:
http://kenmcarthur.com/podcastseason2preview/
Episode One: This episode talks about Shonda Rhimes, and her book "The Year Of Yes", the instant New York Times bestseller from the creator of Grey's Anatomy and Scandal and executive producer of How to Get Away With Murder as Shonda shares how saying YES changed her life, the fear of saying yes and unconventional values.
`http://kenmcarthur.com/s2episode1/
Episode Two: This episode talks about Levi Allen of Left Coast Media and how creating films (or any creative endeavor) can be a crushing disappointment, how to get beyond the disappointment to success. Plus the first steps of creating the Impact Project and a sneak preview of the story for the Impact Factor Short Film.
http://kenmcarthur.com/s2espisode2/
Episode Three: A phone call with #1 business blogger, Seth Godin, how you beat odds of 280 million to one and the initial story idea for the Impact Manifesto Short Film and how it changed.
http://kenmcarthur.com/s2episode3/
And finally …
Episode Four: This episode features Michael Engesser, the composer for the Impact Manifesto Short Film. We talk about how we created the music for the Impact Manifesto Short Film and how it changed.
http://kenmcarthur.com/s2episode4/
More on the way, but don't stop here!
I really could use some great reviews of the podcast on iTunes It really does make a huge difference and I read every one of them personally.
Unfortunately, it's not as easy as it seems!
Check out this article to see exactly how it's done!
http://theauthorbiz.com/how-to-leave-a-podcast-review-at-itunes/
Then head on over to iTunes to subscribe and review the podcast!
http://kenmcarthur.com/itunes
All the best,

Ken McArthur
Best-Selling Author and Producer
KenMcArthur.com
The Impact Factor Movie
The Impact Masterminds
The Impact Action Plan Workshops
P.S. Like I always say, working together, we can do so much more than we can alone. Here are a few ways I might be able to help.
P.P.S. Here's the addresses to find me on Twitter and Facebook …
Twitter:
http://twitter.com/KenMcArthur
Facebook:
http://www.facebook.com/pages/Ken-McArthur/20103565427